The Centre for Non-Traditional Security Studies (NTS Centre) at the S. Rajaratnam School of International Studies functions as the Secretariat of the NTS-Asia Consortium. Led by Associate Professor Mely Caballero-Anthony as the Secretary-General, the team comprises Ms Margareth Sembiring, Senior Analyst, and Ms Joey Liang, IT Executive and Webmaster.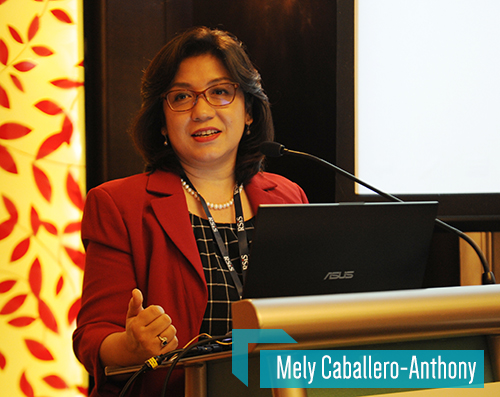 Mely Caballero-Anthony is Associate Professor and Head of the Centre for Non-Traditional Security (NTS) Studies at the S. Rajaratnam School of International Studies (RSIS), Nanyang Technological University, Singapore. Until May 2012, she served as Director of External Relations at the ASEAN Secretariat. She currently serves as Chair of the UN Secretary-General's Advisory Board on Disarmament Matters and Security and is a member of the UN Academic Advisory Council on Conflict Prevention.  She was also a member of the World Economic Forum (WEF) Global Agenda Council on Conflict Prevention until 2015.
Prof. Anthony's research interests include regionalism and regional security in the Asia-Pacific, non-traditional security (NTS), politics and international relations in ASEAN and East Asia, conflict prevention and management, as well as human security. She was the principal investigator of the MacArthur Asia Security Initiative (ASI) project of Internal Security Challenges in Asia and Cross-Border Implications. She has published extensively in peer-reviewed journals on a broad range of security issues in the Asia-Pacific. Her latest publications, both single-authored and co-edited, include: An Introduction to Non-Traditional Security Studies(London: SAGE Publications Ltd, 2016), Asia on the Move: Regional Migration and the Role of Civil Society(Japan: JCIE, 2015), 'Understanding ASEAN Centrality' (Pacific Review, 2014), 'Human Security in ASEAN: 20 Years On' (Asian Journal of Peacebuilding, 2014), and Non-Traditional Security in Asia: Issues, Challenges and Framework for Action, (ISEAS, 2013).
Margareth Sembiring is Associate Research Fellow at the Centre for NonTraditional Security Studies, S. Rajaratnam School of International Studies, Nanyang Technological University, Singapore. She works on climate change and environmental issues. She is currently doing a PhD that assesses the political economy of low-carbon energy transitions in the Philippines and Indonesia using historical institutionalism. Margareth holds an MA in International Peace and Security from the King's College London where she was a Chevening scholar. Prior to that, she completed her masters' degree in Defence Management from the Indonesian Defence University in Jakarta. Her first degree is in Mechanical Engineering that she obtained from the National University of Singapore. She is the manager of the NTS-Asia Consortium Secretariat.