Meet the Expert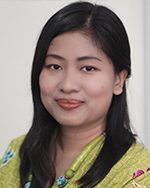 Rachma Indah Nurbani
Senior Researcher
Areas of Expertise:
Study on Unpaid Care Work in Indonesia

INOVASI: Diagnostic Study on Sub-national Education in Indonesia

Diagnostic Study of Child Labour in Rural Area, with Special Emphasis on Tobacco Farming

Child Poverty and Disparities in Urban Area

Strategic Review of Food and Nutrition Security in Indonesia
Biography
The economic progress of a country does not always linearly correlate with the improvement of the quality of life of its children. Indonesia has constantly shown progressive macro-economic performance and has also succeeded in increasing its status by moving into the group of low-middle income countries. However, the country is still facing persistent problems in child nutrition. The United Nations Children's Fund (UNICEF) reported that 80 percent of the world's stunted children live in 14 countries, including Indonesia (UNICEF, 2013). With a prevalence of 37 percent, Indonesia has been a country with the highest stunting rate in South East Asia, surpassing its counterparts in the region with lower or similar phases of economic development, such as Myanmar, Vietnam, and Thailand (Millenium Challenge Account, 2014). The other nutrition indicators shown by the prevalence of underweight and of wasting which have reached almost 20 and 12 percent are also indicating a severe nutrition problem in the country (Basic Health Survey, 2013).
The high prevalence of child malnutrition in Indonesia raises questions surrounding the effectiveness of various food and nutrition security policies and programs. Hence, I argue that children-related concerns are not adequately incorporated in existing policies and programs implemented. These issues include, for example, quality of care the children receive, dietary habits, as well as the quality of food available in the market that to some extent influence people's dietary intake. My current publication in IDS Bulletin highlights worrying trend of children's snacking habits and why this issue is important for the country's development. It shows that there are still blind spots in government policies on food and nutrition that have not addressed child-caring practices. Therefore, it affects the ability of poor families in preparing quality food for their children (Nurbani, 2015).
Having taught in economics school in which I mostly work with crunching numbers of macro-statistics data, I have never expected to get wide exposure to social issues. My interest was started when I pursued my postgraduate at the Universita di Roma La Sapienza in 2008. During that time I met new colleagues from different countries, including those who have experienced working in development sectors and those who directly worked with grass-root communities. I was also selected to participate in a course on Poverty and Hunger at the World Food Programmes (WFP) headquarter. These experiences opened my eyes on the significance of social phenomena and daily family issues on the wider society. For example, the way people eat or the way people feed their children may have effects on the national economy!
My interactions with social issues were getting more intense when I returned to Indonesia and decided to join SMERU. I felt a growing interest to learn and explore qualitative research methods. I realised that quantitative analyses alone are not enough to answer the question of "why", particularly when we study social phenomena in communities. In SMERU, I have been involved in various studies covering cross-cutting issues on poverty, including food and nutrition security, child poverty and wellbeing, urban poverty, unpaid care work, basic education, and shock and crises. My biggest passion is on supporting the efforts to achieve better quality of life of children in Indonesia through research. I would also be glad to learn more about how research can be more useful in supporting policy formulation processes.