Meet the Expert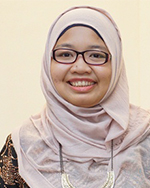 Athia Yumna
Senior Researcher
Areas of Expertise:
The Indonesia Universal Health Coverage (UHC): Initial Assessment of Challenges and Opportunities for Maternal and Child Health Care

Impact of Inequality on Targeting Performance

Towards Universal Social Security in Emerging Economies: Process, Institutions, and Actors

Impact of Inequality on Prosperity and Security

Health Equity and Financial Protection in Asia (HEFPA)
Biography
My first exposure to the inequality issue dates back to the end of 2011 when Indonesia's most prominent newspaper, Kompas, featured some articles related to economic growth that was insufficient to ensure equality as well as widening gaps between rich and poor in their headlines. In fact, Indonesia began to experience soaring inequality over the last decade. Expenditure inequality measured by the Gini Ratio has increased rapidly from 0.36 in 2007 to 0.41 in 2011, the highest record of the Gini ratio September 2016 – NTS-Asia Consortium Newsletter 3 in Indonesia ever.
This current trend of rising inequality is not a solely Indonesian scenario. A number of reports highlight this emerging issue not only in the developing world but also in developed countries. For example, the OECD 'Divided We Stand' report published in 2011, the UN 'Inequality Matters' report issued in 2013, and several other reports published by other development agencies, discuss this matter.
The uniqueness of inequality is its twoway causal relationship with development, particularly economic growth.
The first relationship is how economic development affects inequality and the second is how inequality affects economic development. This uniqueness makes this issue much more complex than other development problems. We need more evidence to be able to comprehend the many layers of the puzzle. In the case of Indonesia, there are only limited studies looking at the issue of inequality; most of them look at the decomposition and drivers of inequality (see: Booth 2000, Akita 2003, Yusuf et al. 2013, Miranti et al., 2013). The answer to the fundamental question of whether increasing inequality in Indonesia is detrimental to economic growth is still rare or may not even exist. Our recent paper (Yumna et al., 2015) tries to add to the literature by proving that rising inequality in Indonesia is something to be worried about. The paper argues that the impact of inequality on economic growth is an inverted U-shape. Initially, increasing inequality is associated with increasing growth, but after reaching a peak point, further increase will reduce growth.
With this rigorous evidence, we can convince policy makers to acknowledge this recent trend. Luckily, we are now on the right track. Jokowi's government has included the issue of reducing inequality as an explicit focus in their development agenda of 2015-2019. But this is not enough. Research communities need to support the decision makers with more evidence on how to do it. For advocacy, the more the merrier.
Alexis de Tocqueville in his seminal book "Democracy in America" (1840:185) reminded us that 'Almost all of the revolutions which have changed the aspect of nations have been made to consolidate or to destroy social inequality. Remove the secondary causes which have produced the great convulsions of the world, and you will almost always find the principle of inequality at the bottom'. Inequality is not a novel issue, it exists throughout human history. Tackling it is our biggest task.